The 5 Mistakes Boat Dealers and Brokers Make and How to Avoid Them
Author and Marketing Coach, Matt Sellhorst announces a new book release; "Marine Marketing Strategies: Which Ones Actually Work and Which Ones are Guaranteed to Drain Your Bank Account, Jeopardize Your Margins and Squash Your Dealerships Quest for Higher Profits" via Lulu Publishing.
This unique book is based on real life sales and marketing success in today's economic and marine enviornment.  The key; hold each and every penny accountable for success.  Be ruthless with wasteful marketing expense while accelerating profitable investments in trackable smart marketing.
Contrary to many in todays marketing world, you will not hear about FaceBook and Twitter being a 'magic bullet.' Instead a solid foundation for long-term marketing success will be laid that can be applied directly to your dealership for success today and for decades to come.
In addition to being the marketing coach to several boat dealerships and brokerages, Sellhorst is also been a top producing boat salesman at Hall Marine.  This experience as a nose to nose, toes to toes boat salesman gives him a real life perspective that is valueable for delivering real life success.
The book is now available via the publisher, at www.Lulu.com, www.BoatDealerProfits.com and www.Amazon.com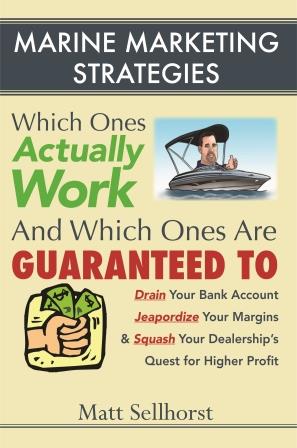 About the Author:
Matt Sellhorst is Head Profits Coach of Boat Dealer Profits and published author.  He is also a top performing boat salesman, trackable marine marketing expert and coach to honest and ethical boat dealerships and brokerages. Sellhorst has been featured in Boating Industry Magazine and MRAA Guide to Success.  www.BoatDealerProfits.com
www.SuccessfulBoatDealer.com
www.HowToSellMoreBoats.com